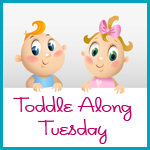 This week's Toddle Along Tues(Wednes)day topic is
What's in your diaper bag
?
My disclaimer? This doesn't include all of the new things I now carry around for tube feeding. I wasn't really ready to think about that yet.
The bag:
Skip Hop Duo - I love it! I've had many, many diaper bags (like most moms) and this is the one I always return to. Later iterations of this bag have replaced one of the mesh pockets with a cell phone holder - I'm super glad I have this version, because I like to stuff bottles and sippies in there!
The Contents:
We travel pretty light. Feeding tube accessories are a suitcase all their own, so I try to keep it to the essentials here.
- Wipes (We like Huggies, but Pampers Thick Care will work if they're on sale)
- 3 Diapers (Pampers Baby Dry, Size 3)
- 3 Bottles (Tommee Tippee, pre-filled with water and a container of Neocate Jr. formula)
- 2 Epi Pens (you never know!)
- Mommy's inhaler
- Baby Tylenol (generic. Tylenalmost?)
- Toy Bag (containing board book/flip cards, rattles, C-3PO, and a "don't touch my baby" tag)
These have been our go-to items for months now. Aidan normally carries around his pacifier (usually a Wubbanub) and his blanky (Aden & Anais Issie), so I have no need to pack a spare. I just toss my wallet into the bag and off we go!
Conspicuously missing? A change (or ten) of clothes, which will now be standard fare since we're the owners of a very leaky feeding tube!